Sam Demma is a 22-year-old author, keynote speaker, social entrepreneur, and the founder of Empty Your Backpack — A national movement helping youth recognize their potential and redefine their self-worth. His commitment to helping others started when he was a senior in high school. At 17-years-old, Sam co-founded PickWaste, a grassroots initiative that mobilized youth to pick up garbage in their communities. This program provided over 6000 meaningful volunteer hours to students in his local community. Since its origins in 2017, approximately 300 cleanups have been completed
and over 3000 garbage bags have been filled with litter. That experience confirmed how small, consistent actions could have a significant impact, and he lives that message in
all he does.
After three career ending injuries, Sam hung up his soccer cleats and chose to pursue a path that would make a positive impact on others. After making that decision, Sam dropped out of university and started multiple initiatives that encourage kindness, service and self belief. As a keynote speaker, Sam has delivered over 300 keynote presentations. His young age makes him extremely relatable to youth audiences and utterly inspiring for adults. His unforgettable and entertaining presentation style has reached thousands of students across North America and his High Performing Student Seminars have made a difference for young people in six countries. Sams' journey has been covered by CBC, iHeartRadio, Global News, CityNews, CTV, Breakfast
Television, Your Morning Show, and on the TEDx platform, twice.
As a result of Sam's keynote presentations students and educators often share that they will begin taking more acts of kindness, start taking small, consistent actions towards their personal goals and proactively look for ways in which they can be of
service to others. In his spare time, you can find Sam dancing the bachata, eating handfuls of tacos or volunteering as the youngest board director of the Canadian Association of Professional Speakers. Sam believes that every student can change their
beliefs, chase their dreams and create a life of meaning. There's no limit to where small actions will take this big thinker.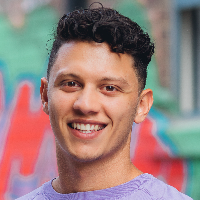 Sam Demma